Hansen Foods of Suttons Bay
7 January 2012
No Comment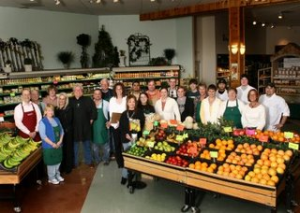 Hansen Foods of Suttons Bay
"The Good Cook's Store"
91 W Fourth, Suttons Bay, MI 49682
231-271-4280
Hansen Foods
Your Local Grocer – Your Neighbor
Let their legendary friendly, courteous and knowledgeable staff help you find just what you need for perfect meals and entertaining success!
Many Premium and Award Winning Products!
Specialty Products in Every Department!
Be Sure to Try Hansen Foods'
"Meals in a Minute!"
It's dinnertime, you've worked hard all day, you're running late, you're hungry, you don't know what to make for dinner – Relax, Hansen Foods has you covered. Stop by our deli case and pick up everything you need to put together total "Meals in a Minute!"
Gift Baskets
No gift basket is too small or too big to put together! Think of all the possibilities… a wine basket, a fruit basket, a dinner basket, a wine and cheese basket, a crackers and cheese gift basket, a gift basket of Boar's Head Meats and Cheese! Give Hansen's a call and let them know what you need and they are always happy to assemble any type of gift basket(s) you need!
The Meat Department
Turkeys – Butterball and Honeysuckle Young Turkeys
Super Angus Premium Beef
Fresh ground daily from muscle – not from tubes
Boar's Head Meats and Cheeses
Homemade Fresh Smoked Sausage
Free range Amish Chickens
1st Class Monster King Crab Legs – Shrimp – Prawns
Plus a wonderful variety of fish filets from around the world
The Largest Wine Selection in Leelanau County
The Wineshop at Hansen's has a selection so vast it was featured in the Wall Street Journal!
Let Becky help you find the perfect bottle of wine for every occasion!
They stock wine from all local Leelanau Peninsula and Old Mission wineries plus shelf after shelf of wines imported from around the world.
Take a few moments the next time you are in the store to visit the Wineshop – it is like a mini art gallery too – every label on every bottle of wine is a work of art worthy of collecting.
Award Winning Produce
Bushels and bushels of seasonal produce from local farms plus a full selection fruits and vegetables shipped in fresh from around the country all year.
Full Service Cold and Hot Deli
The Rotisserie is always loaded with Chicken – hot and packaged to go – a terrific meal for your family, or if you prefer single servings, choose from their full selection of breaded and battered fried chicken plus great finger foods and great side dishes.
Many cold salads, plus a full selection of deli meats and cheese – all sliced to your request.
Sandwiches and a full menu of Subs are made on the spot for you. Any time of the day!
Join their daily email list to learn about their Daily Lunch Specials
Fresh Baked Goods from In Store Bakery
Yummy cakes, cookies, donuts, breads and coffee cakes make fresh daily.
Shelf after shelf of fresh breads from local bakeries too including Stone House Bread, Bay Bread and Grand Traverse Bagel and special treats from Sisson's of Leland.
Birthday Cakes with pictures made to order from the in store bakery.
Bottles and Bottles of Sauces, Dressings, Marinades, and Vinegars
Mustards, Vinegars, Salad Dressings, Sauces and Marinades – many are locally produced from Leelanau County, including sauces from The Leelanau Country Inn and Brownwood Farms.
From the Dairy
Milk, eggs and cheeses from local providers! Bardenhagen Farm Fresh Eggs, International Award Winning Gourmet Cheese from Leelanau Cheese Company, many other gourmet and specialty cheeses plus a selection of Boar's Head cheese, and milk from Shetlers Dairy – milk in glass bottles just like we used to get!
Greeting Cards, Household Items, Books, Magazines, Newspapers and Ice
Find just the perfect greeting card for any occasion, and be sure to pick up the latest bestseller and popular fiction book or local title from the selection of books stocked in Hansen Foods.
You can get all the ice you need to keep your food and beverages ice cold for your picnic or outing!
Many other Conveniences in the Hansen's Plaza
You will find plenty of free parking, you can do your banking at two local banks – Traverse State Bank and Fifth Third Bank – both offer the convenience of a drive-through. You can fill and pick up your prescriptions at Bay Shore Pharmacy, you can get your car washed, you can work out at Body Balance, do your laundry or even drop your laundry off at the Suttons Bay Laundromat, and receive medical care from Evergreen Center for Integrative Health, get a massage and pick up your herbs and vitamins all in one trip!
Plus Much More!
Gift Certificates are always available and easy to give as a gift too!
Visit the Hansen Foods' daily blog today!
Email: hansenfoods@centurytel.net
---