Apache Trout Grill
7 January 2012
No Comment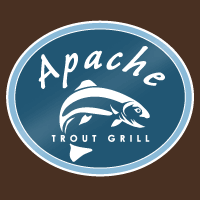 Apache Trout Grill
13671 S. West Bayshore Dr., Traverse City, MI 49684
231-947-7079
Monday-Thursday 11:00am-10:00pm
Friday & Saturday 11:00am-11:00pm
Sunday 9:00am-9:00pm
THE APACHE TROUT MENU
At Apache Trout Grill we pride ourselves with having a fresh and unique menu. We value great taste, high quality and above all, customer satisfaction. All of our dishes are prepared fresh with the finest ingredients combining traditional flavors and a savory, one-of-a-kind Apache taste. Our signature dishes include our award-winning ribs, fresh fish and hand-cut, aged, choice steaks. We are always searching for innovative food combinations and trends, in addition to the established favorites.
Great food, friendly staff and a comfortable atmosphere right on West Grand Traverse Bay are only a couple of reasons that Apache Trout Grill is a memorable dining experience for both locals & tourists alike. We hope you have the opportunity to stop in and experience our latest menu, have a couple refreshing drinks & enjoy a quality evening with a remarkable view. Too busy to dine in? Call & take Apache dining home.
ABOUT THE APACHE TROUT GRILL
In 1994, Mike Connors moved to Traverse City with a vision of combining his love for the restaurant business and a passion for fly fishing as well as the outdoor adventures of Northern Michigan. Thus Apache Trout Grill was put into motion. The restaurant was named after the first fish to be put on the United States endangered species list. The Apache Trout, an Arizonan fish, was on its way to extinction just 40 years ago. Found only in the lakes and streams of the White Mountains on the Apache Indian reservation, this beautiful trout was saved by the efforts of those who believe in the value of conserving our nation's great resources. Today, the Apache Trout has been removed from the endangered species list and has become a model for conservation.
Inspired by this success story, Mike has created Apache Trout Grill with a desire to preserve the qualities of restaurants past; great food, a well-trained and friendly staff set in a casual, comfortable neighborhood atmosphere. "Good food served right," has become the motto at Apache Trout Grill.
After more than fourteen years, Mike, his wife Sheila and the Apache staff are still serving up those Traverse City favorites that have made them so famous. Signature dishes include, award winning BBQ ribs, fresh seafood, hand-cut, aged, choice steaks and their amazing homemade keylime pie. Apache Trout Grill has an atmosphere of warmth that makes a perfect evening with friends or a romantic meal for two. So, stop in for a glass of one of the outstanding local wines. You can also take advantage of the patio and enjoy an ice-cold beer to relax. The breath-taking sunset view over the bay is sure to sweeten your experience. Whichever choice you make, Mike, Sheila and the Apache Trout Grill Staff look forward to serving you!
Apache Trout Grill and your Hosts,
Mike & Sheila Connors
Owners/Operators
Josh Benedict, Director of Food and Beverage
Karen Chemello, Floor Manager
Kimmy Gotts, Floor Manager
Wally Schroeder, Floor Manager
Chris Moses, Floor Manager
Tim Benedict, Kitchen Manager
---