Garage Bar and Grill
5 January 2012
No Comment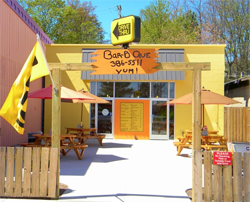 Garage Bar and Grill
108 Waukazoo, Northport, MI 49670
231-386-5511
The first time we went with the family, every one was quite satisfied. burgers, ribs, pulled pork all great. we were there in the fall and they had an open fire outside and "smore kits"… how cool! since that first time, we have consistantly been satisfied and been treated as part of the usual gang. we love it.
Last year restauranteur Bruce Viger and his grill master George Twine made us all really happy with wonderful ribs. This year they've expanded the restaurant to sit down service and added a bunch of great menu options, many keeping the smoked and grilled theme. They do a great job and have created a fun and funky atmosphere at the same time.
I don't remember the last time I had something "smoked" at a restaurant this size that didn't taste processed but that was not the case at this funky fun grill. The smoked turkey salad with Pear Gorgonzola dressing was inspired, not too big not too small. Pork slider was so tender as not too be believed. Ribs were to die for. Servers were pleasant but not interfering. Wine selection was very good, especially for a "bar." From the traffic of take outs going by the table, I would say the locals or summer people have discovered the place as well. Oh, the onion rings, best I have had in years. So as not to appear that I am related to anyone associated with this place I will mention that I did not care for the coleslaw. I also thought the nachos were just average but the pork on the nachos was very tasty. Also the salsa was fresh and worth the trip "up north" alone. Booster chair but no high chair. I went back two nights in a row because there were still things I wanted to try.
---