Village Inn of Suttons Bay
22 February 2012
No Comment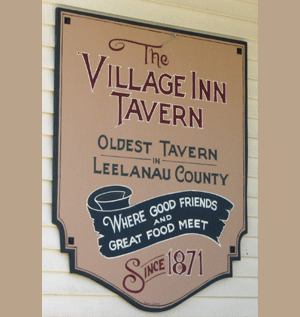 The Village Inn of Suttons Bay
"The Community Meeting Place for Over 100 Years"

Your Hosts: Richard Roberts and Joshua Deters
The Village Inn
The Village Inn is located in downtown Suttons Bay, Michigan in the heart of the Suttons Bay shopping district.
The Village Inn is conveniently located in Leelanau County between Traverse City and Northport and Leland on M-22 which circles the entire Leelanau Peninsula.
The Village Inn is smoke-free and also has free WiFi.
The History of The Village Inn in Suttons Bay
The first plat of the Village of Suttons Bay was recorded in 1865 and named Suttonburg in honor of the Sutton's family. In 1871, F.J. Jellisch and his wife Maria Anna bought lots and built the Union Hotel on this site. The business welcomed overnight guests with good food and drink.
Throughout the years, this business has been handed down from one family to another. Each local family has operated a restaurant and "The Village Inn" stands today as one of the oldest continuously operated businesses in the state of Michigan. The name may have changed over the years but the original structure remains.
Today, the Village Inn, is celebrating its 140th year in the Suttons Bay community.
Our commitment to our community starts with you and we welcome you to our establishment as we hope you enjoy your time with our family at the Village Inn. Thank you for your support!
"Locally owned and operated"
We look forward to serving you at The Village Inn in Suttons Bay!
Richard Roberts
Joshua Deters
The Village Inn of Suttons Bay
201 St. Josephs Ave.
P.O. Box 459 (mailing address)
Suttons Bay, Michigan 49682
231.271.3300
---